Measurement, Testing, Analysis services
The automotive industry is said to be in the midst of a once-in-the-century era of major transformation. Technological innovations are progressing at a bewildering pace, including in the areas of IoT (Connected), Autonomization, Sharing, and Electrification. To follow research and development in these fields, we established JTLep Inc. (JTLep) in a joint investment with JAPAN TESTING LABORATORIES Inc.. This new affiliated company has launched measurement, testing, and analysis services to meet customers' various requests.
It will leverage a wealth of experience and expert knowledge to support the various processes of customers' manufacturing operations.
Our Services
Measurement Services

This service uses extensive knowledge and a variety of equipment to respond to all manner of requirements concerning the precise measurement of product dimensions.

E.g. Precision Measurement, Non-destructive analysis, measurement program implementation, on-site measurement, etc.

Testing Services

As well as testing against JIS and other standards, this service handles fixture production and evaluation of non-standard products.

E.g. Vibration Test, Material Test, Environmental Test, Electrical Test, CAE analysis, etc.

Analysis Services

This service handles advanced sample preparation and observational analysis, etc. of both organic and inorganic substances.

E.g. Preparation of cross-sectional samples, physical analysis, chemical analysis, etc.
Business model

Strength/Features
Abundant track record

We offer an extensive range of technical evaluation services in collaboration with JAPAN TESTING LABORATORIES Inc., which handles around 11,000 cases a year.

Customization proposals to suit themes

In addition to spot order commissions, we also propose comprehensive evaluation options to suit the customer's theme, including handling the full suite of compound testing requirements (physical properties testing and CAE analysis).
We also offer commissioned services by guest engineers on the customer's premises.

Proposals of both analysis services and trading firm services

JAPAN TESTING LABORATORIES Inc., Honda Trading, and JTLep are able to leverage their respective strengths to not only perform the various tests and evaluations, but also to propose the best materials based on the results of that testing.
Value Chain
We provide a wide range of services at each stage of mobility-related development.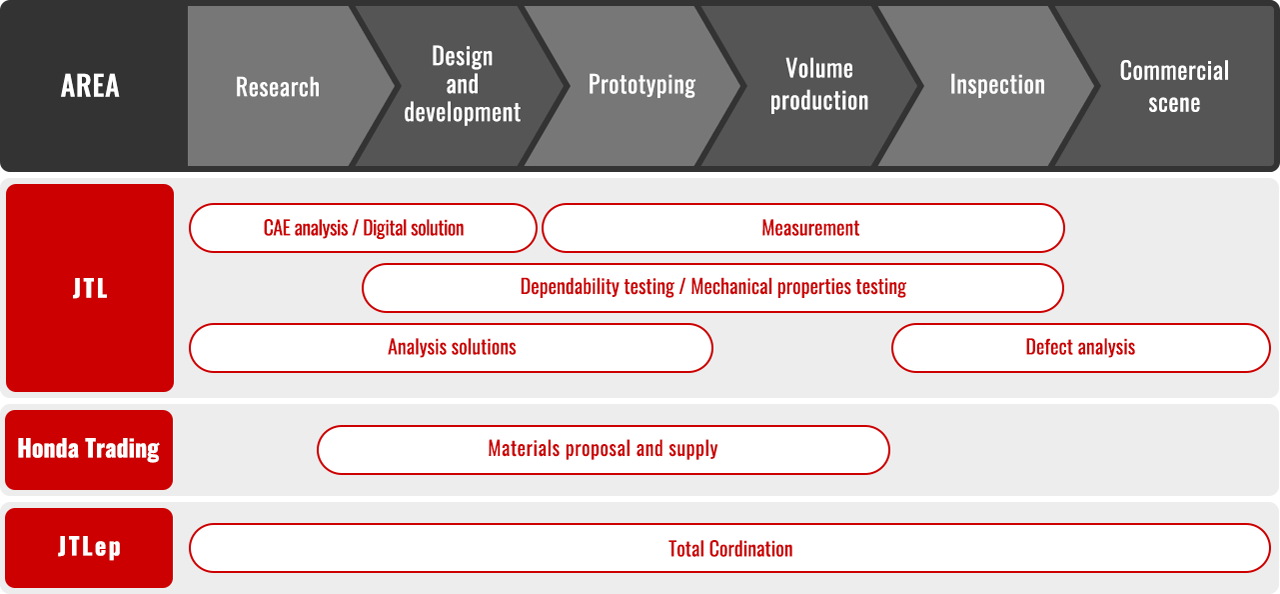 JTL: JAPAN TESTING LABORATORIES Inc.
Examples of customer requests and responses

Examples of customer requests and responses
Physical properties testing (tension, thermal degradation) and analysis (component analysis and structure observation) of materials being newly considered
Acquisition of various data required for construction deliberations and design, and structural analysis by CAE
Evaluation of outcomes of trial product (measurement of dimensions) and durability evaluation (operating durability, environmental testing)
Process capacity measurement, automatic measurement program creation, component analysis of adhered foreign material
Separate evaluation with X-ray CT observation, acquisition of data for authenticity determination
Investigation of causes of break-down, investigation of products recalled from market, analysis of recycled materials